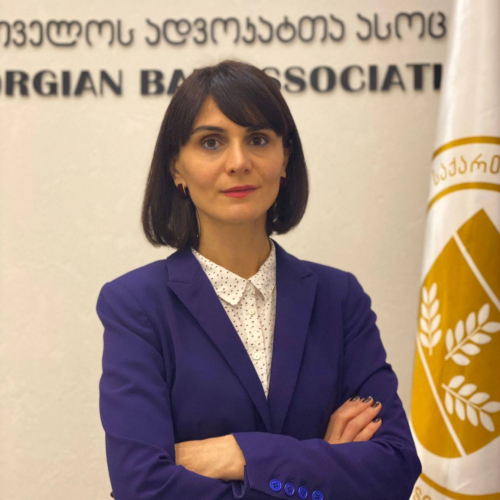 Raisa Liparteliani
Executive Board Member
In 2021, by the decision of the General Assembly of the Association, he became a member of the Executive Board of the Bar Association.
Raisa Liparteliani was born on April 26, 1983 in Tbilisi.
In 2000 she graduated from the 4th Georgian Gymnasium of Tbilisi.
In 2005 she graduated from Iv. Javakhishvili University, Faculty of Law.
She has a long (18 years) experience working in the field of human rights, including 16 years in the field of labor rights.
Since September 2017, Raisa has been the Vice-President of the Georgian Trade Unions Confederation (GTUC).
From 2008 she headed the Legal Department of the same organization.
In 2008-2009 she worked as the project coordinator of the organization "Article 42 of the Constitution".
Raisa has experience as a legal consultant and expert for a number of international and local organizations (CARE International in the Caucasus, US Solidarity Center, UN Women, German Society for International Cooperation (GIZ), Friedrich Ebert Foundation, etc.)
Raisa Liparteliani has been holding the position of the Chairman of the Labor Law Committee of the Georgian Bar Association since 2018.
In 2017-2019, she was the coordinator of the 5th working group of the Eastern Partnership Civil Society Forum "Social Dialogue and Labor Rights" and Coordinator of the 5th working group of the Eastern Partnership Civic Platform "Social and Labor Policy, Social Dialogue" in the same years.
Since 2018 - Member of the EU-Georgia Civil Society Platform (CSP).
Since 2018 - Member and Founder of the Executive Committee of the International Network of Workers' Rights Defenders (ILAW Network).
Since 2020 - Member of the Tripartite Commission of Social Partnership of Georgia
Since 2021, he has been a member of the Advisory Board of the Georgian Labor Inspection Service and a member of the Accreditation Commission of the Georgian Labor Inspection Service.
She is a trainer on national and international labor standards.
Raisa is the author of numerous publications and papers.
She is also a participant in various local and international scientific conferences and forums.
She speaks English, Spanish, German and Russian.