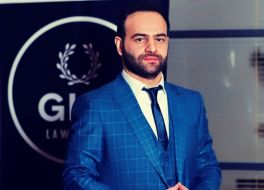 Sulkhan Kapanadze
Specialization:
General
Service area:
Address:
Tbilisi, N9 Aslanidi street
Phone:
577404750
Languages:
English, Russian
Email:
sulkhanlawyer@gmail.com
About Lawyer:
GKG Law Group Partner, General specialization Lawyer. 9 years of professional experience, including 5 years of law practice. Sulkhan has a wealth of experience working as a lawyer. In particular, in 2013-2014 he gained significant practical experience in the Tbilisi Court of Appeals. In 2014-2015 he was a junior lawyer at the law firm "Kordzakhia & Zhgenti" and in 2015-2019 he was a senior lawyer at the Legal Service of the Tbilisi Municipality. Since 2019 is a founding partner of the law firm PLC. Sulkhan's main areas of professional activity are: Contract Law, Construction Law, Administrative Proceedings, Immigration Law, Labor Law and Corporate Law. Sulkhan is a member of the Georgian Bar Association.
პროფილში განთავსებული ინფორმაციის სიზუსტეზე პასუხისმგებელია პროფილის შემქმნელი ადვოკატი