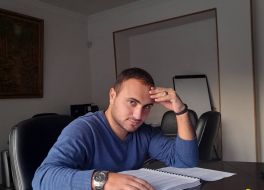 Besik guliashvili
Specialization:
General
Service area:
Address:
St. Tbilisi, Atzuri Street N4a. / St. Lagodekhi
Phone:
598292701
Languages:
Georgian / English
Email:
besikiguliashvili@gmail.com
About Lawyer:
Education: 09.2012 - 06.2016 Caucasus International University, Bachelor of Law academic degree. 09.2017 - 07.2019 Caucasus International University, academic degree of Master of Public Law. Since 2022, a member of the Committee of Communication with Public Agencies and Public Unions of the Georgian Bar Association. Since 2022, a lawyer specializing in juvenile justice (criminal law) and children's rights (civil law).
პროფილში განთავსებული ინფორმაციის სიზუსტეზე პასუხისმგებელია პროფილის შემქმნელი ადვოკატი