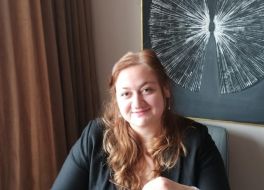 Irina Khatashvili
Specialization:
Civil
Service area:
Civil Law
Address:
Tbilisi, #5, Ilia Chavchavadze ave.
Phone:
595285658
Languages:
Georgian, English, Russian
Email:
irina.khatashvili@kk.ge
About Lawyer:
Irina Khatashvili is a co-founder and Managing Partner of Legal and Lobbyist firm Kortava Khatashvili Legal Intelligence, she owns a master degree in civil law, she has broad experience of delivering in both one-time services for individuals and legal entities (so called case by case), as well as long-term corporate legal services for legal entities. Practices law in the following areas: Administrative Law, Civil Law, Constitutional Law, Bankruptcy Law, Insurance Law, Business Law, Labor Law, Transport Law, International Private and Public Law, Immigration Law, Environmental Law, Children's Rights, etc. Provides legal services in Georgian, English and Russian languages. Additionally, she provides Pro Bono legal / advocacy services for the socially vulnerable and disabled individuals. In 2006-2010 she was pursuing a Bachelor's degree with the Faculty of Law of the Georgian American University (Tbilisi, Georgia). She obtained bachelor's degree in 2010. In 2010-2012 she was enrolled at Master Program Civil Specialization of Georgian American University. She obtained Master's Degree in civil Law in 2012. She defended Master's Thesis on: Provisional Measures of claim, integration of provisional measures into case law". In 2011 she studied at the High School of Justice and successfully completed a special training course for judicial officers (assistant of judge). In 2012 she Studied at the International Institute of Human Rights (Strasbourg, France), successfully completed the program - Human Rights and Personal Data Protection. She actively has been engaged in legal activities since 2009, practiced in Tbilisi City Court (2009), worked in a private law firm (2010-2013); She was a lawyer at Law Clinic of Georgian-American University Law, Social Sciences and Diplomacy School (2011). In 2012, she worked for the Coalition for Human Rights and Health, where he was actively involved in the development of human rights guidelines. In 2012-2013, she participated in the Summer School and National Mediation Competition organized by the Ivane Javakhishvili Tbilisi State University National Center for Alternative Dispute Resolution and the University of South Texas, as a coach of students of Georgian-American University. Since joining the Georgian Bar Association - 2014, she has been practicing independent private legal practice. Served many large organizations, both in the field of corporate long-term services and one-time (Case by Case) service. From 2015 to 2020 she served the consulting company "DG Consulting" as a Legal Specialist / Lawyer / Institutional Arrangement Specialist in such large projects as: power line projects, hydropower plants, landfills, pipelines, etc. These projects were funded by international financial institutions such as International Finance Corporation (IFC), European Bank for Reconstruction and Development (EBRD), World Bank (WB), and Asian Development Bank (ADB). Since 2018, she has been a member of the Board of the International Education and Global Networking Association (IEGNA) - Non-entrepreneurial (Non-commercial) Legal Entity. Since 2021, she has been the founder and board member of Child Integration and Commonwealth - Non-entrepreneurial (Non-commercial) Legal Entity She also has Extensive experience in participating in infrastructure and industrial projects (such as transmission lines, hydropower plants, landfills and other large-scale projects) including working with clients and lenders, participating as a leading specialist n the preparation of documents such as Environmental Impact Assessment (EIA, ESIA) Strategic Impact Assessment (SIA), Stakeholder Engagement Plan (SEP), assessment of project compliance with national legislation and international best practice requirements. She has both practical and theoretical knowledge of Georgian legislation, extensive experience in infrastructure project permit requirements and environmental legislation, as well as knowledge of environmental and social policies of IFC, IBRD and WB. She took a part in the development of comprehensive legislative studies of environmental legislation, environmental impact assessment reports, reviews and legislative updates. She was engaged in the drafting of a number of bills. She has participated in international forums, conferences and trainings in different countries. Since 2014 she is a member of the Georgian Bar Association, a lawyer specializing in civil law. At the same time, from 2019 she is a member of the Labor Law Committee of the Bar Association. Holds additional specialization in children's rights (civil) since 2020.
პროფილში განთავსებული ინფორმაციის სიზუსტეზე პასუხისმგებელია პროფილის შემქმნელი ადვოკატი