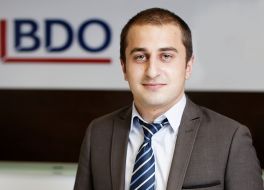 Dimitri Khrikadze
Specialization:
Civil
Service area:
Address:
2 Tarkhnishvili Str. Tbilisi, Vere Business Centre
Phone:
2 54 58 45; 2 18 81 88
Languages:
Georgian, English, Russian
Email:
DimitriKhrikadze@bdo.ge
About Lawyer:
Dimitri Khrikadze is a Senior Associate with BDO practicing in Civil and Administrative law, he joined firm in 2014. Dimitri provides clients with the full legal support in civil and administrative law. He is specialized in corporate law, real estate and construction law, labor law. Has an experience of working with organization in the sphere of finance and freight forward. As one of the leading specialist in the firm, His responsibilities also includes representation of client before administrative bodies and courts, as well as planning legal disputes. Dimitri holds degree in Law and Social Sciences from Georgian American University. Dimitri speaks English and has a fair command of Russian.
პროფილში განთავსებული ინფორმაციის სიზუსტეზე პასუხისმგებელია პროფილის შემქმნელი ადვოკატი