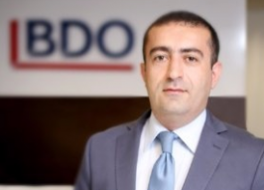 David Gelashvili
Specialization:
Civil
Service area:
Address:
2 Tarkhnishvili Str. Tbilisi, Vere Business Centre
Phone:
2 54 58 45; 2 18 81 88
Languages:
Georgian, English, Russian
Email:
DGelashvili@bdo.ge
About Lawyer:
David Gelashvili has been practicing law at BDO since 2004. He is a partner of the company BDO in legal direction, also is a guest lecturer at Ilia State University and Georgian Institute of Public Affairs (GIPA). David has many years of successful practice in tax, State Procurements and private law disputes; also in administrative proceedings which implies license and permit proceedings in various business fields. Basic professional experience: Due Diligence, including property Due Diligence during real estate transactions, tax and legal planning for an engagement, court and administrative disputes related to large-scale bids, reorganization of an entity for compliance with investment conditions and legal support to investment engagements.
პროფილში განთავსებული ინფორმაციის სიზუსტეზე პასუხისმგებელია პროფილის შემქმნელი ადვოკატი