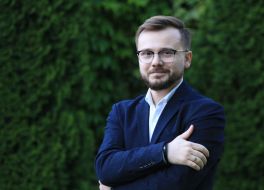 Davit Kortava
Specialization:
General
Service area:
Insurance Law
Address:
Georgia, Tbilisi, 0179, #5 Chavchavadze Ave.
Phone:
+995577744411
Languages:
Georgian, English, Russian, German, Polish
Email:
davit.kortava@kk.ge
About Lawyer:
In 2006-2010 he was pursuing a Bachelor's degree with the Faculty of Law of the Georgian American University (Tbilisi, Georgia). Along with studies he was extensively engaged in Court Officials Training Course at High School of Justice. In 2011 he was admitted to the faculty of International Law of the Turiba University of Business Administration (Biznesa Augstskola ''Turiba'') (Riga, Latvia), passed an individual training program and obtained Master's Degree in International Private Law in 2013. He defended Master's Thesis on: "Institutional and Political Independence and Comparative Legal Analysis of the European Union Member States Competition Authorities together with Non-EU Member States Anti-Monopoly Agencies". In 2012 he received a grant from European Commission to pursue Master's Program aimed on European Union Law with the Hanze University of Applied Sciences (Groningen, Netherlands), and graduated studies cum laude. In 2013 he received a grant from Latvia State-Fund, for PhD in Law studies with Turiba University (Riga, Latvia), where he currently continues his research work. In 2015 he received a scholarship from EMP project initiated by European Union Commission and to continue his PhD research work with Mykolas Romeris University (Vilnius, Lithuania). In 2016 he proceeded his PhD thesis research work on: "Problematic Legal Issues in Different Countries in the World and Comparative Legal Analysis Concerning the Aspects of the Relationship between Central Government and Local Self-Government" at the State University of Bialystok (Bialystok, Poland). Since 2008 he is the Member of Local or/and International Organizations, including AIESEC, the Robert Bosch Stiftung and etc. Since 2010 he is full-time engaged in Public and Private sector with Georgian government and working closely with Governmental, Non-Governmental and Private-Sector Commercial Organizations, where he holds Managing and Representative Positions. During his career he represented the interests of the State in bilateral and multilateral intergovernmental negotiations. Since 2011 he actively performs International Project Management including, among the other countries, in Georgia and European Union States. Since 2018 he is a Co-Founder and Chairman of social-educational organization - "International Educational and Global Networking Association''. Since 2019 he is a Co-Founder, Member of the Board and Executive Director of the "Niko Nikoladze Society". In 2019 he became a Co-Founder, Member of the Board and Vice-President of Trade Union - "Labor Safety Specialist and Expert Association". Since 2014 he is continuously engaged in Academic field. In 2015 he became internationally recognized and licensed Lecturer\Instructor of International Road Transport Union (Geneva, Switzerland). In accordance with European Union regulation, he delivers CPC Manager Trainings for Transport Managers, including lectures on Civil, Commercial, Social and Fiscal Law. His academic contribution includes additional lectures on European Union, Competition and Labor Law in Georgia and European Union countries. He actively participates in diverse International Forums, Conferences and Trainings held in more than 20 countries. He is an Author of various Research Studies, Scientific Articles and Publications in Georgian and English languages. David Kortava is a Co-Founder and Managing Partner of Law and Lobbyist Company ''Kortava Khatashvili Legal Intelligence''. Since 2014 he is a Member of Georgian Bar Association (GBA), Attorney at Law with General Specialization. Meanwhile, he holds a position as a member of the Commercial and Competition Law Committee in the Association. His expertise includes: Administrative Law, Civil Law, Criminal Law, Constitutional Law, Bankruptcy Law, Insurance Law, Business Law, Labor Law, Transport Law, International Private and Public Law. Since 2014 he additionally provides Pro Bono Legal Services for socially vulnerable and disabled people. In addition to his native Georgian language, he provides services in English, Russian, German, and Polish.
პროფილში განთავსებული ინფორმაციის სიზუსტეზე პასუხისმგებელია პროფილის შემქმნელი ადვოკატი